Shall We Dance is very excited to offer some new and exciting dance classes for children!
Pre-Ballet:  Ages 2.5 – 4.5
Ballet: Ages 4.5 and up
Pointe: Available upon technique
Tap: Ages 4 and up
Hip Hop/Jazz: Ages 5 and up
Lyrical: Ages 6 and up
Register for any of these classes in-person at our new studio location in the Seacourt Pavilion in Toms River on Wednesday, August 3 from either 10:00 am – noon or 5:00 pm – 7:00 pm, OR on Saturday, August 6 from 10:00 am – noon and we'll waive the $25 registration fee!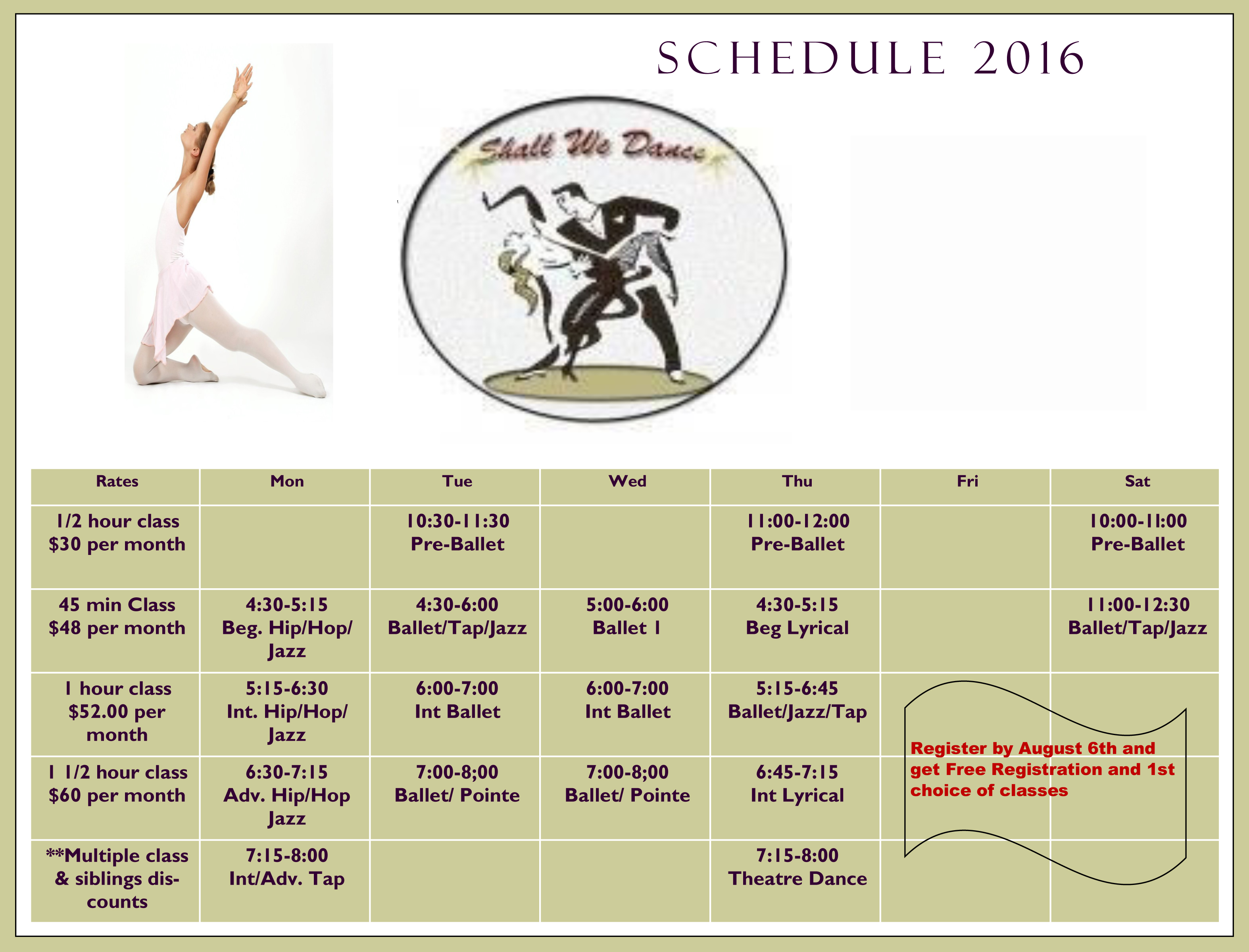 Registration Fee
There is a $25 non-refundable registration fee due at sign up.
Monthly Installments
Tuition payments are based on a yearly rate, which we break down into 10 monthly installments. If you choose to pay your tuition in full upon registration, we offer a 10% discount. Pricing is as follows:
30 minute class – $30 per month
45 minute class – $45 per month
1 hour class – $52 per month
1.5 hour class – $60 per month
Showcase Recital
There is a $50 costume deposit per class due by November 15th. This deposit is non-refundable. Costume balances are due by February 15th. If a child drops a class after January 1st, the parent/guardian is responsible for the balance of the costume. The Annual Showcase/Recital is not mandatory.
End of Year Trophy
Each student will receive an end of the year trophy if they have completed enrollment from the fall through June. Trophies will be presented at the last class in June.
Sibling discounts are available. Any class with less than four students may be cancelled or merged with another class. Monthly installments are due on the first of every month. If your installment is received after the 10th of the month, your account will be assessed a $25 late fee. There is a $35 fee for all returned checks.
Dress Code
All Pre-Ballet class students are to wear pink tights and pink leotards.
All other Ballet levels students are to wear black leotards.
All Hip Hop/Jazz class students are to wear black tight clothing/leotards/dance-wear with black jazz shoes or black dance sneakers.
All Lyrical students can wear any choice leotard and tights/dance-wear. No shoes required.
All Tap students are to wear black leotards and black tap shoes.
Please have hair tired back or neatly secured for all dance classes.
Don't forget we also have our Ballroom Dance Program for Kids. Click here to read all about it!